with District 2 Commissioner Doug Underhill

June 2018 Newsletter

MyEscambia.com/District2
Two Coast Guard Cutters Relocating to NAS Pensacola, Change of Command
The crews of the Coast Guard Cutter Decisive, a 210-foot Medium Endurance Cutter based in Pascagoula, Mississippi, and the Coast Guard Cutter Dauntless, a 210-foot Medium Endurance Cutter based in Galveston, Texas are soon to call NAS Pensacola home. The Decisive was welcomed to its new homeport on Tuesday, June 4 with the Dauntless expected by August 31.

Each cutter boasts a crew of over 75 Coast Guardsmen used to conduct a variety of Coast Guard missions, including Counter Drug Enforcement, Alien Migration Interdiction Operations, Search and Rescue, Maritime Law Enforcement, and Defense Readiness. The cutters will be homeported at Naval Air Station Pensacola along with Coast Guard Cutter Cypress, a 225-foot Seagoing Buoy Tender, which is currently homeported at NAS Pensacola.

After ushering the Decisive into Pensacola, Commander Blake Novak transferred command to Commander Jose Martis on June 11. Martis served as commanding officer of both the USCGC O'Cracoke and USCGC Sapelo in San Juan, Puerto Rico; and most recently, as executive officer of USCGC Vigilant in Cape Canaveral, Florida. Upon relinquishing command of USCGC Decisive, Cmdr. Novak will report for duty as District 11 Enforcement Branch Chief, at Alameda, California.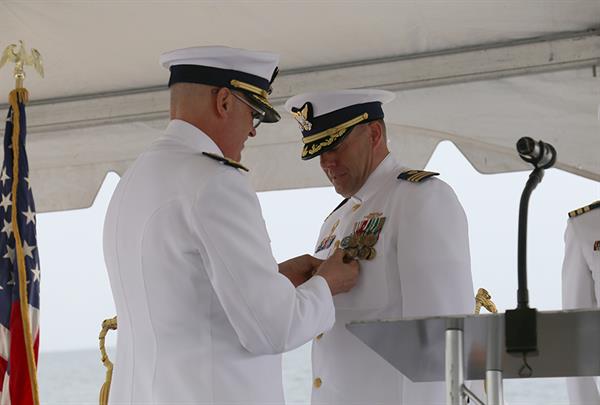 Watch our Latest Videos
| | |
| --- | --- |
| | Watch to learn about major traffic improvement projects in District 2 including Sorrento Road and the intersection Gulf Beach Highway and Fairfield Drive. Click here to watch. |
Commissioner Underhill speaks with Project Manager Terri Berry about the progress on the Beach Haven Drainage and Sewer Project. Construction is underway for the first of a 12 phase drainage and sanitary sewer project. Click here to watch.
Hurricane season runs from June 1 to Nov. 30 and Escambia County wants to ensure your family is prepared in the event a disaster strikes. Click here to learn how.
Floating Island Installation in Jackson Lakes
The Escambia County Water Quality and Land Management Division installed temporary floating wetlands in one of three county-owned lakes located north of Navy Boulevard near Bayou Chico during the week of June 4. The floating island installations will improve water quality by removing excess nutrients (nitrogen and phosphorous), grow native plants to be incorporated into local restoration projects, and provide environmental education for school-aged children and college-level participants.

Funding for this project was provided through a $295,500 grant from the U.S. Environmental Protection Agency Gulf of Mexico Program. The floating islands will cover approximately 21,000 square feet or 5 percent of the open water area in the lake and will be in place for approximately two years.

The islands will be used to grow several species of wetland grasses, including smooth cordgrass, saltmeadow cordgrass, seashore paspalum, and soft rush. The project is expected to grow more than 100,000 individual plants which will be harvested for use in multiple local restoration projects such as living shorelines and other coastal wetland restoration projects.

Escambia County will be conducting surface water quality monitoring during the project to document water quality improvements. For more information and updates on the project, click here.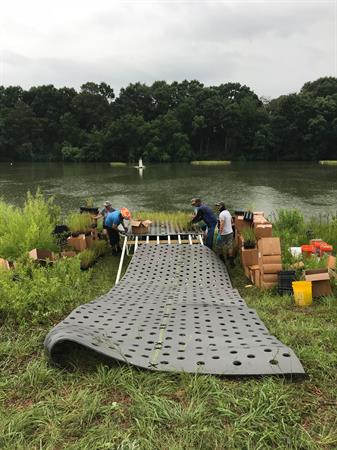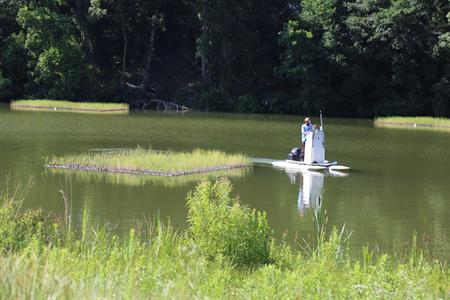 Bayou Chico Project Moves Forward

At the May 17 board meeting in Panama City Beach, the Gulf Consortium formally approved the Florida State Expenditure Plan which will direct $292 million in Component 3 RESTORE Act funds to 69 diverse environmental and economic projects and programs in 23 Florida Gulf of Mexico counties. The State Expenditure Plan will now be sent to governor's office for approval, with the final step being approval by the Gulf Coast Ecosystem Restoration Council.

Escambia County's Bayou Chico Contaminated Sediment Remediation Project will receive $12.6 million to remediate legacy contaminated sediments in Bayou Chico. The project will improve water quality and aquatic habitat in Bayou Chico and Pensacola Bay.

The Gulf Consortium is a public entity created in October 2012 by Inter-local Agreement among Florida's 23 Gulf Coast counties, from Escambia County to Monroe County. The counties formed the consortium to meet requirements of the RESTORE Act to develop a State Expenditure Plan for economic and environmental recovery following the Deepwater Horizon oil spill. The Consortium Board of Directors consists of one representative from each county government and six non-voting Governor appointees.
Mayfair North Cleanup This Wednesday!
Residents in the Mayfair area will have the opportunity to dispose of yard debris and other items free of charge Wednesday, June 13 during the Mayfair North Neighborhood Cleanup in District 2. Only residents in the designated cleanup area are able to participate in the neighborhood cleanup. Items left at the curb outside of the cleanup area will not be collected. The general cleanup area is south of Massachusetts Avenue, east of Mobile Highway, west of Emerald Avenue and north of Madison Drive.
During neighborhood cleanups, Escambia County departments team up to bring services to residents in an effort to keep local neighborhoods clean and safe. Participating is easy: Residents in the cleanup area simply leave eligible items at the curb to be disposed of free of charge by Escambia County and partnering agencies.

All debris must be at the curb directly in front of your residence by 7 a.m. on the day of the cleanup. Please keep tires and paint cans separate from all other debris. Do not place piles under low-hanging lines or near poles, fences or mailboxes.

Click here to see a list of eligible items for pickup.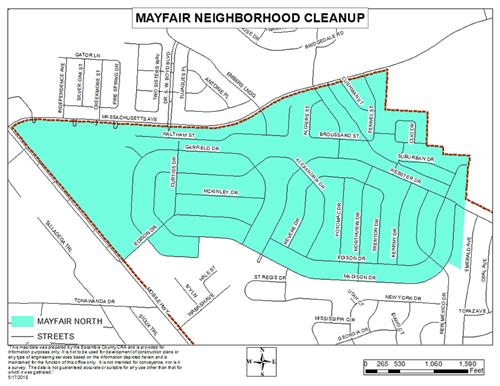 Fight the Bite!

To help reduce the risk of getting bitten by mosquitoes, follow the "Five D's and an S" of mosquito control:
Dusk to Dawn - is the time frame when mosquitoes are most active. Reduce or eliminate outdoor activity between dusk and dawn or take precautions to prevent mosquito bites
Drainage - is key to eliminating breeding sites for mosquitoes. Check around your home to rid the area of standing water. Water found in old tires, flowerpots, clogged rain gutters, leaky pipes and faucets, birdbaths and wading pools is where mosquitoes can lay their eggs.
Dress - in light colored, long sleeves and pants when you are outside, especially in mosquito infested areas.
DEET - if you are going to be outside when mosquitoes are most active, make sure you apply insect repellent that contains DEET (N,N-diethyl-m-toluamide). Read and follow label instructions. Spray both exposed skin and clothing with repellent when outdoors.
Screens - make sure window and door screens are in good condition.
To request Escambia County Mosquito Control services including being added to the "no spray/fog" list, please contact the Mosquito Control Division at 850-937-2188, mosquitocontrol@myescambia.com, submit an online request here or download the free Ask MyEscambia app to submit a service request.
Upcoming Meetings & Events
For a complete schedule of county meetings and events, click here.

Florida-Alabama TPO
Tiger Point Community Center
1370 Tiger Park Lane
Wednesday, June 13
9 a.m.

Development Review Committee
Escambia County Central Office Complex
3363 West Park Place
Wednesday, June 13
1 p.m.

Committee of the Whole
Ernie Lee Magaha Government Building
221 Palafox Place
Thursday, June 14
9 a.m.

Science Hour - Hurricane-resistant Landscaping
Escambia County Central Office Complex
3363 West Park Place
Thursday, June 14
6 p.m.

Board of Adjustment
Escambia County Central Office Complex
3363 West Park Place
Wednesday, June 20
8:30 a.m.

Development Review Committee
Escambia County Central Office Complex
3363 West Park Place
Wednesday, June 20
1 p.m.

CRA, BCC Agenda Review, Public Forum & Regular Meeting
Ernie Lee Magaha Government Building
221 Palafox Place
Thursday, June 21
9 a.m., 9:15 a.m., 4:30 p.m. & 5:30 p.m.