with District 2 Commissioner Doug Underhill

April 2018 Newsletter

MyEscambia.com/District2

Perdido Key Habitat Conservation Plan Update
The Perdido Key Habitat Conservation Plan provides for delegated authority from the U.S. Fish and Wildlife Service to the county to protect listed species covered under the Endangered Species Act. Under this plan, the county agreed to protect and actively manage habitats of nesting/wintering shorebirds, nesting sea turtles and the Perdido Key beach mouse. The county is enhancing listed species protection through predictable ordinances such as the 2017 "Leave Only Footprints" ordinance and a pending "dark skies" ordinance. In return, FWS authorized an Incidental Take Permit to the county to allow development of beach mouse habitat up to 11 acres every five years for a maximum impact of 66 acres. These 11 acres are further restricted by zoning category. To check permit availability, please contact Timothy Day, Natural Resources Management Department, at 850-595-1144.
Since its approval in November 2014, there have been 48 Habitat Conservation Plan authorizations for a mixture of single-family homes, multi-family homes and commercial developments. Prior to adoption of the HCP, it took an average of 3 1/2 years to obtain a single-family home permit and 5-8 years for a commercial/multi-family permit. The next five-year interval will begin in November 2019.

Watch our Latest Videos
| | |
| --- | --- |
| | Sidewalks and streetlights are two of the most requested items in District 2. Join Commissioner Underhill as he discusses recent projects and how to have your request heard. Click here to watch. |
| | |
| --- | --- |
| | Commissioner Doug Underhill shows just how easy it is to connect with non-emergency services delivered by the departments housed under the Escambia County Commission using the Ask MyEscambia mobile and desktop application. Click here to watch. |

County Takes On Sea Turtle Patrol
Florida State Parks personnel have been monitoring sea turtle nesting on Perdido Key since the 1980s to enure nests are marked and hatchlings successfully return to the Gulf of Mexico. Due to recent changes with the state park system, our local park service personnel are not able to perform this service for 2018. Escambia County is assuming these responsibilities as a component of the Perdido Key Habitat Conservation Plan, and we look forward to a continued partnership with the citizens of Perdido Key and state park personnel to manage a successful sea turtle nesting program going forward.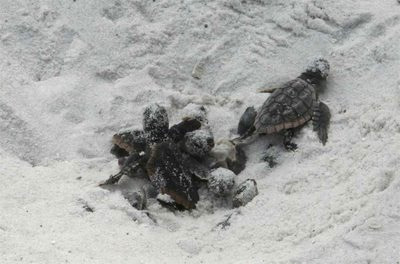 Leave Only Footprints and Protect Sea Turtles
Did you know only an estimated one in 1,000 sea turtle hatchlings survive to reach adulthood? With the 2018 sea turtle nesting season almost upon us, Escambia County would like to remind owners and visitors to our beach to follow these rules to help protect nesting sea turtles:
Fill in holes in the sand and knock down sand sculptures at day's end to remove obstacles blocking sea turtle nesting activities.

Remain at a distance from nesting sea turtles and hatchlings.

Properly dispose of trash and discarded fishing gear. Sea turtles can become entangled in old fishing nets and lines or ingest plastic bags and wrappers, mistaking them for jellyfish.

Remove personal belongings from the beach at the end of each day.

This ordinance is intended to maximize day use by residents and visitors and maintain our beaches as a prime location for nesting sea turtles at night.
For more information about the Perdido Key Habitat Conservation Plan, or Leave Only Footprints program, click here.

Perdido Key Dune Restoration
The dune system along Perdido Key was degraded as a result of the Deepwater Horizon oil spill in the summer of 2010 and subsequent years of cleanup operations. Restoration of these impacts was approved through a Natural Resources Damage Assessment Phase III grant. Escambia County is in the process of restoring approximately 20 acres of dunes along 6 miles of Perdido Key beachfront within Perdido Key State Park and private properties with an approved right-of-entry agreement. This project will improve the ability of the dune system to provide storm protection as well as enhance habitat values. This $319,026 project includes installation of approximately 410,000 dune plants by Aquatic Plants of Florida at no cost to Escambia citizens. The project is expected to be substantially complete by April 10.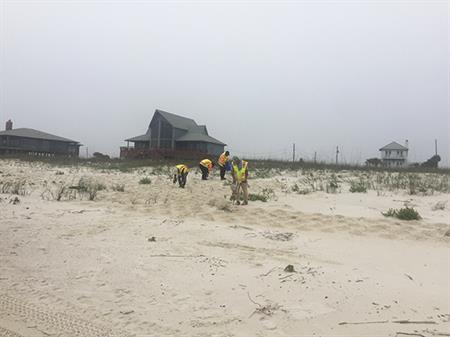 Inlet Management Plan

Escambia County applied for a grant from the Florida Department of Environmental Protection's Beach Management Funding Assistance Program to develop an Inlet Management Plan for Pensacola Pass. Longshore sand transport along the Gulf Coast is generally from the east to the west. Sands that would have naturally moved from Pensacola Beach to Perdido Key become trapped in the deepwater navigation channel that is maintained by the U.S. Army Corps of Engineers. The ACOE prefers to utilize a least-cost option of disposing sands from the pass in an offshore disposal area. The development and implementation of the Inlet Management Plan for Pensacola Pass will formalize a partnership between Escambia County, ACOE, FDEP, and the National Park Service to place these sands along Johnson Beach. This placement will enhance the resiliency of the island and provide for a natural source of sand to assist developed portions of the Key.

Perdido Key Master Plan

Did you know Escambia County has a Perdido Key Master Plan to help guide the development and future growth of the community? The plan was adopted by the Escambia County Board of County Commissioners in June 2016 and is based on public input, planning initiatives, existing development, physical and environmental characteristics, and social and economic conditions. The Perdido Key Master Plan will help decision makers maintain a balance between protection and conservation and growth and development.

To learn more about the plan and view related documents, click here.

Westside Rib Shootout

You're a good barbecue cook. It's time to take the next step and enter the Westside Rib Shootout benefiting the Jim C. Downey Community Center, Inc., a project committed to changing the culture of West Pensacola. You and three of your closest friends, family or coworkers will compete for a series of prices and bragging rights. Please submit your completed entries as soon as possible. This is a non-sanctioned event, so it is open to both rookies and experienced BBQ teams.

When: Saturday, May 12 from 11 a.m. to 3 p.m. (Winners will be announced at 3 p.m.)
Where: Lexington Terrace, 900 S. Old Corry Field Road
Set-up Time: 5 a.m. or later
Registration: $100 entry fee
More Info: Find the event on Facebook or contact Ronnie Rivera at 850-529-2895 or ronnie@dpsnwf.org.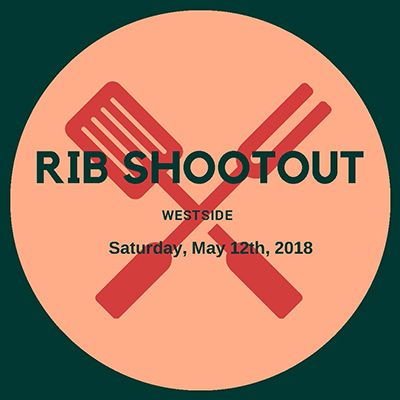 Upcoming Meetings & Events
For a complete schedule of county meetings and events, click here.

CRA, BCC Agenda Review, Public Forum & Regular Meeting
Ernie Lee Magaha Government Building
221 Palafox Place
Tuesday, April 17
9:15 a.m., 4:30 p.m. & 5:30 p.m.

Board of Adjustment
Escambia County Central Office Complex
3363 West Park Place
Wednesday, April 18
8:30 a.m.

Development Review Committee
Escambia County Central Office Complex
3363 West Park Place
Wednesday, April 18
1 p.m.