with District 2 Commissioner Doug Underhill

March 2017 Newsletter

MyEscambia.com/District2
From the Commissioner: Perdido Key & Protecting the Three Equity Holders
On April 6, the commission will be voting on the initial purchase processes for an additional beachfront parcel on Perdido Key. The parcel is adjacent to Beach Access 3, and will effectively double the size of that free public access point. I back this purchase as it supports my concept of "three equity holders," in which we must ensure that development of the island protects the interests of the three equity holders: the property owner, residents of the greater Perdido area, and residents of the rest of the county who are day visitors. We cannot allow the development of the island to squeeze out the day visitor, so we must endeavor to increase the public amenities on the island. Our current county-owned beach accesses are grossly inadequate, and they create conflicts with property owners because day visitors are crammed into tiny public areas bordered on both sides by private property. If we do not get serious about public access now, over-development will choke out the access to the island for all but the property owner. That would be a travesty and not in keeping with who we are on Perdido Key.
This action dovetails with the continued acquisition of critical habitat under the Habitat Conservation Plan and the soon-to-be built, RESTORE-funded, Perdido Key Bike Path that will run the length of the island.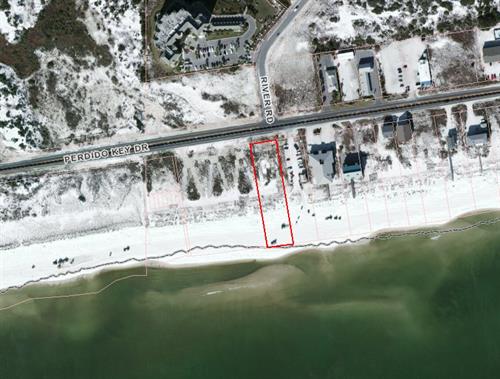 Springtime Spruce Up!
Springtime is a great time to visit your local county parks! In preparation for the warmer weather, we've made, or have in the works, some great additions to our District 2 parks:
At Lexington Terrace Park, four new basketball goals and new outdoor exercise equipment totaling $36,000 were recently installed. CRA funding was used for the improvements. The new amenities are expected to be very popular with residents in the area.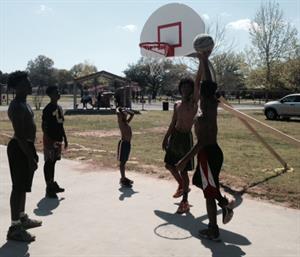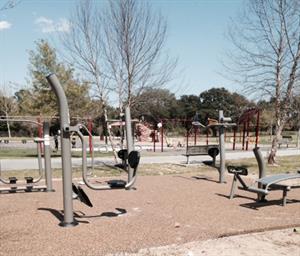 Treasure Hills Park also received two new basketball goals, and a new pavilion will be installed in April. Approximately $43,000 in Local Option Sales Tax will be used to give adults and children additional amenities prior to school ending and the heavy summer use.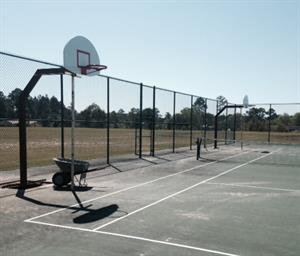 Lastly, shade structures will be installed at Perdido Kids Park starting the week of April 1. The installation is expected to take about two weeks, but is weather dependent. Once complete, it will provide a cool place for parents to relax and children to take a break from the sun.

Commission to Address Key Leave No Trace Behind
At the April 13 Committee of the Whole meeting, a Perdido Key Habitat Conservation, or "Leave No Trace" Ordinance will be discussed by our commission. While a similar ordinance was adopted in August 2015 for Pensacola Beach, the two beaches are not the same and have different issues, such as private property rights, that must be addressed separately. The ordinance will propose items like umbrellas, tents, beach toys and chairs left unattended will face code enforcement action; unlike Pensacola Beach where they are removed. While the enforcement action is different, the goal is the same – to make our beaches safe and friendly for sea turtles and other wildlife by removing all personal belongings at the end of each day. The goal is to have the public hearing and adoption of this ordinance in place by May.
Removing your personal property at the end of each day can make a huge difference for beach wildlife. Below are photos that show tracks where a potential nesting turtle came in contact with a tent frame and one that illustrates how a clear beach can make the nesting process easier.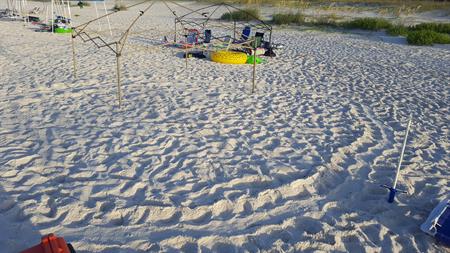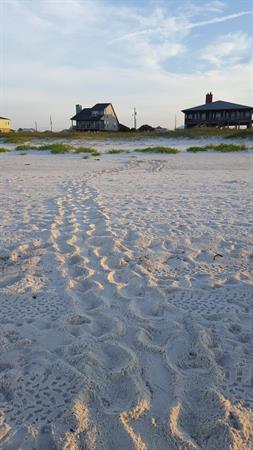 Summer Internship Available with District 2!
The District 2 office has begun accepting applications for a summer internship position. The paid position is open to anyone at least 16 years of age who has an interest in public service and government. Applicants can expect to be scheduled for 40 hours per week for approximately 15 weeks this summer. The deadline to apply is May 1.
Applicants will be expected to perform a variety of tasks, including:
Filing documents

Operating office machinery

Answering telephone calls

Entering data into a PC

Acting as a courier
Applicants will also be asked to answer the following question, and selection will be based heavily on this answer:
If you had the full access and authority of a commissioner's office for a summer, what would you do to make Escambia County better?
Applications may be obtained and filed online at http://www.myescambia.com/jobs or by visiting Human Resources at 221 Palafox Place. For more information, contact District 2 at 850-595-4920 or district2@myescambia.com.
Upcoming Meetings & Events

BCC Agenda Review, Public Forum & Regular Meeting
Ernie Lee Magaha Government Building
221 Palafox Place
Thursday, April 6
9 a.m., 4:30 p.m. & 5:30 p.m.
Committee of the Whole
Ernie Lee Magaha Government Building
221 Palafox Place
Thursday, April 13
9 a.m.

Offices Closed in Observance of Good Friday
Friday, April 14

BCC Agenda Review, Public Forum & Regular Meeting
Ernie Lee Magaha Government Building
221 Palafox Place
Thursday, April 20
9 a.m., 4:30 p.m. & 5:30 p.m.

Committee of the Whole
Ernie Lee Magaha Government Building
221 Palafox Place
Tuesday, April 25
9 a.m.